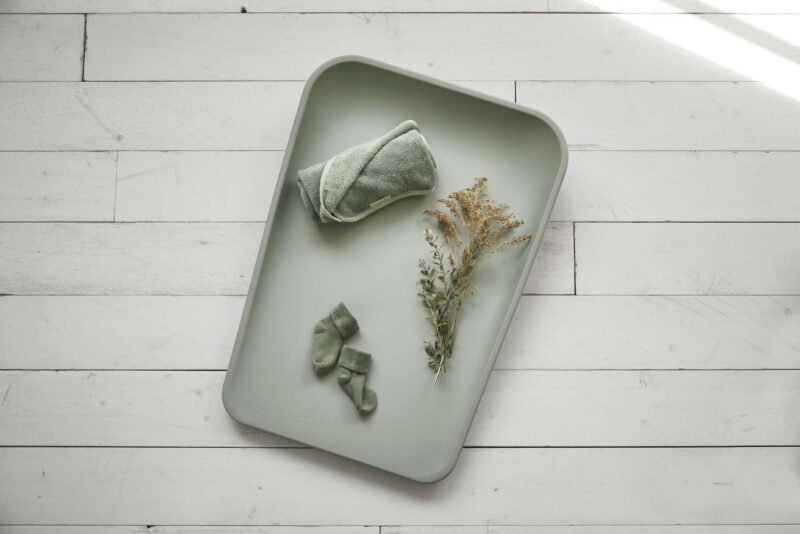 Matty Silicone Changer
$159.00
Features:
Can be disinfected with alcohol (ethanol)
100% waterproof surface can be easily wiped clean
Made from moulded PUR, soft and comfortable
Available in cappuccino, dusty grey
New colors available: Sage Green, Blueberry and Wood rose.
Made in Denmark
Dimensions: 20" x 28" x 4.5"
We strive to provide all information accurately with minimal coloration, grain pattern, or proportions variations. Due to graphic limitations pertaining to media format or display settings, finishes may appear slightly different than they actually are.
More colors are available: Wood Rose, Sage Green, and Blueberry. Please call or stop by Rooms to Grow.
Description
Matty Silicone Changer
When having a baby, a changing mat is practically an indispensable tool. A changing mat helps you to change diapers in a safe, comfortable, and hygienic manner. Matty is a soft cushion mat that can be placed directly on the changing table or directly on the floor, precisely where you need it.
EASY TO CLEAN
Let's face it, when changing diapers, something other than water may hit the mat. Choosing a changing mat that is easy to clean makes sure that the mat is hygienic and ready for use the next time a diaper needs to be changed. The Matty's new durable and soft PUR foam surface is not only waterproof and can be wiped clean with a damp cloth, it can also be disinfected with alcohol (ethanol)!
A SAFER CHANGING SPACE
The Matty changing mat comes with a safety belt directly attached to the bottom of the changer, providing an even more secure hold of the baby when changing. The bottom of the changer is also equipped with support feet that are placed closer to the four corners to provide increased non-slip stability!
ALL-IN-ONE CHANGING SPACE
Matty is an all-in-one changing station for at home or on the road. Unlike many other changing mats Matty is made in a material that is soft to the touch—no need for a cover or towel.
Information
Delivery
We deliver throughout all the New England states including Rhode Island, Massachusetts, Connecticut, New Hampshire, Vermont and Maine.


Return & exchange
Due to the nature of home furnishings with handling and ordering furniture, merchandise cannot be returned. All sales are final. More info.
Assistance
Contact us on (401) 467-2990, or email us at info@roomstogrow.com.