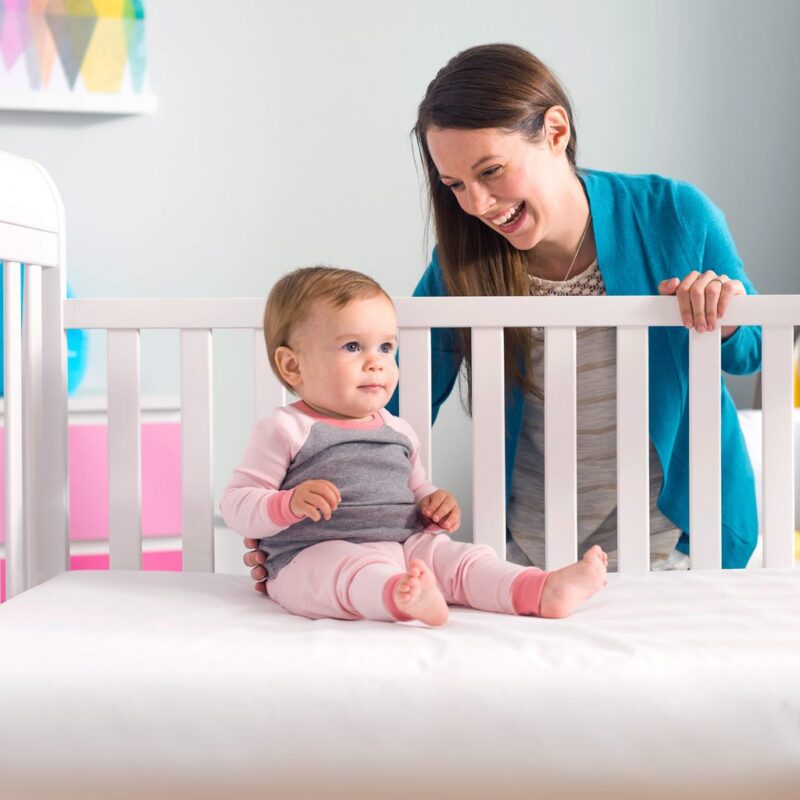 Healthy Support Crib Mattress
$179.00
Lullaby Earth Healthy Support Crib Mattress
Designed to be easier for parents and safer for babies, the Lullaby Earth Healthy Support Crib Mattress delivers the perfect balance of features.
Weighing a mere 7 pounds, it's a breeze to change the sheets. It also features a waterproof design (even on the edges where most crib mattresses have seams), a firm and durable construction, square corners for a snug fit, and of course, no harmful chemicals or allergens.
Meets the strictest GREENGUARD® certification standards for eliminating chemical emissions.
Lifetime limited warranty. Proudly made in the U.S.A.
Description
Healthy Support Crib Mattress – Lullaby Earth
SKU#LE10 Measures 27.5″ x 52″ x 6″ and comes with a lifetime limited warranty. Proudly made in the U.S.A.
Lightweight – Only 7 Pounds
Changing the sheets on a heavy crib mattress can be a challenge. The Healthy Support Crib Mattress makes changing the sheets a breeze! At 7 pounds, you can get the job done easily, so it's no hassle to give your baby a clean crib.
Waterproof + Seamless Edges
Lullaby Earth crib mattresses are truly waterproof (unlike many "water-resistant" models). They are even waterproof on the edges where most crib mattresses have seams. Just wipe up any mess with regular soap and water and you are good to go! A waterproof mattress makes for a more hygienic crib environment. By keeping fluids out of the mattress, there is a lower likelihood of mold or mildew growth. The waterproof surface doubly functions as a dust mite/bed bug barrier and is so pure it meets food contact standards!
Firm Support
Firmness is one of the most important features of a crib mattress. A soft crib mattress can sag, making it much more difficult for babies to shift positions or roll over if they are uncomfortable or having trouble breathing. In addition to a firm design, strong side and edge support add structural stability, making the Lullaby Earth mattress an excellent choice for toddler beds.
No Harmful Chemicals or Allergens.
Snug Fit in Standard Size Cribs and Toddler Beds
Measures 27.5" x 52" x 6" with square corners.
Information
Delivery
We deliver throughout all the New England states including Rhode Island, Massachusetts, Connecticut, New Hampshire, Vermont and Maine.


Return & exchange
Due to the nature of home furnishings with handling and ordering furniture, merchandise cannot be returned. All sales are final. More info.
Assistance
Contact us on (401) 467-2990, or email us at info@roomstogrow.com.