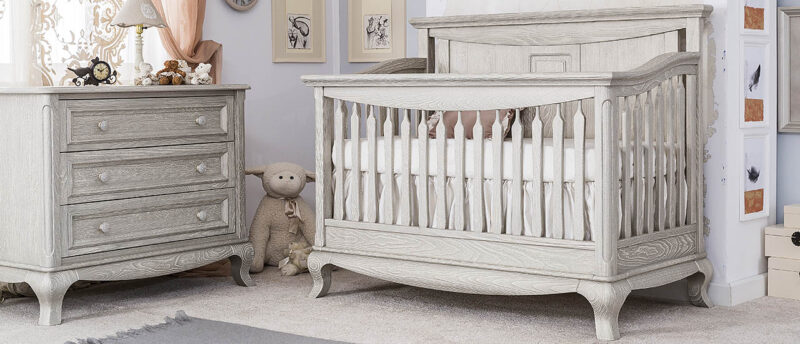 Antonio 3 Piece Crib Pkg
$3,699.99
The 3 piece pkg includes:
Crib
Dresser
Adjustable Changing Tray*
The collection is on display. This is a 3 piece package.
Coverts to Toddler Bed, Day-bed, Full bed.
*Not Pictured
We strive to provide all information accurately with minimal variations pertaining to coloration, grain pattern, or proportions. Due to graphic limitations pertaining to media format or display settings, finishes may appear slightly different than they actually are.
More colors are available, the collection is on display, please call or stop by Rooms to Grow.
Description
Antonio Collection – 3 Piece Crib Pkg
BOLD AND ELEGANT, A TIMELESS CLASSIC
Antonio is a bold, classic flavored design. Oversize "Queen Anne" legs seamlessly sculpted out in hardwood, framed drawer fronts with recessed backing all dressed up with a contour apron front and around the pieces accentuating and elevating the design. Traditional features are mixed in with curated classics, and all are dressed up with modern finishing techniques and colors for a Timeless and Elegant look.
Information
Delivery
We deliver throughout all the New England states including Rhode Island, Massachusetts, Connecticut, New Hampshire, Vermont and Maine.


Return & exchange
Due to the nature of home furnishings with handling and ordering furniture, merchandise cannot be returned. All sales are final. More info.
Assistance
Contact us on (401) 467-2990, or email us at info@roomstogrow.com.